Skip to Content
High-Quality Furniture in Knoxville
When you need home décor services or high-quality furniture in the Knoxville, TN area, Design House Interiors has you covered! From custom bedding and drapery to sofas, wall art, lamps, rugs, mirrors – you name it – we'll turn your house into your dream home. Our team understands that many people find it incredibly daunting to spend hours upon hours searching for furniture that meets their aesthetic and functional needs. We get it, and we can help! Whether you're looking for a piece of furniture that's a little more modern, a timeless beauty, or maybe something vivid and loud, we have the perfect solutions for your home.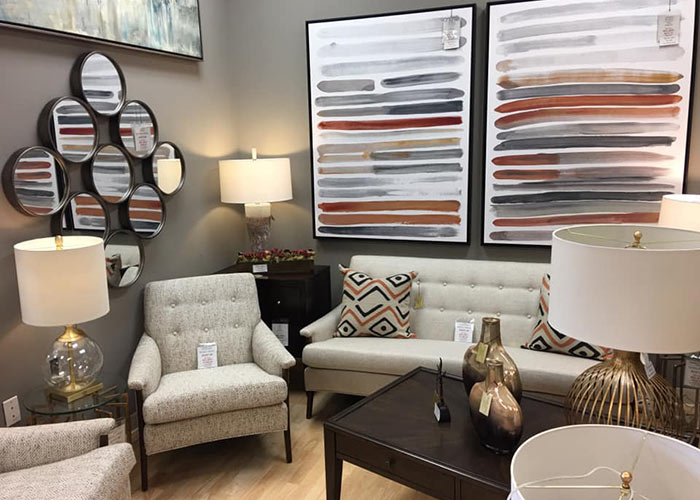 Aesthetically-Pleasing Furniture You'll Love
When you choose to work with Design House Interiors, you'll have access to a fully stocked showroom of high-quality furnishings. Lamps, chairs, recliners, pendants, original oil paintings, mirrors, chandeliers, and more are waiting for you in our vast showroom! If you've spent countless hours online looking through home products, it may be time to try something a bit more tangible. All the products we offer in our showroom are available the same day, or we can arrange delivery to your home that will arrive within a few days. Our Knoxville showroom gives customers a way to get a feel for and try out a wide range of high-end furniture. This experience, combined with our customer care, is sure to deliver you the interior solutions your home has been needing.
Special Homes Call for Special Orders
If you're looking for that personal touch your home's been missing, we're the team to call. Not only can we offer unique design solutions through our businesses' interior design firm, but we also accommodate special orders, so your project can have those special-to-you touches all homeowners deserve. No matter the custom furniture solutions you need, our team can help. With high-end furniture and fabric lines, wallpaper samples (including Thibaut and York®), carpet, hardwood flooring, and more, our furniture store has all the high-end furniture you need to revitalize your home completely! Call now to learn more about what Design House Interiors can offer or visit our Knoxville showroom today to see for yourself!
Interior Design with a Personalized Touch!